Media
IST Media promotes the dissemination of the most relevant activities undertaken in the School, with emphasis on teaching, research, entrepreneurship and internationalization.
Publicity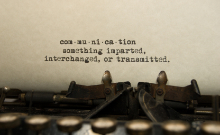 Técnico has favoured the dissemination of events through the Internet as the most effective means of spreading its educational offer, thus showing outstanding effectiveness rates. In fact, students and applicants prefer to search on the Internet information that may be useful for their professional life. Today, the Internet is, after television, the mean with the biggest audience and use time. Internet research and navigation are currently an integral part of the decision-making process, and therefore it is fundamental to communicate on-line. As a consequence, the Internet is an unavoidable reality in any Marketing Plan.
Publications
The newsletter is a common instrument that institutions use as a way of disseminating their activities on a regular basis, which has quickly emerged as a reference document for consumers of this type of publication and reinforced their link with institutions in general, and with the IST in this instance. The IST Newsletter is therefore a major and important publication in its strategy of opening up to society.
The Valores Próprios magazine is specially aimed at the Técnico's alumni community, but also once again to strengthen the school's link to civil society. Each paper edition is also available every two months on the three IST campuses in their own exhibitors (for example, Alameda , at the main entrance of the Central Building near reception as well as in other campus buildings).